After spending a few hours working virtually at Café Venetia in Palo Alto, CA, I picked Keith up from his conference at noon and we headed into San Francisco. We decided to drive our rental car to the closest BART subway station in Millbrae which was a 20- to 25-minute drive from our Redwood City hotel. After a some research, we decided to take the BART to the Daly City stop and catch bus #28 to get off at the N. Judah and 19th Avenue bus stop (you can buy your bus fare ahead on the MUNIMobile app). Our goal? Golden Gate Park.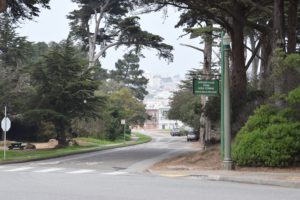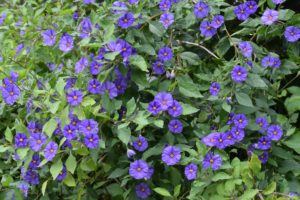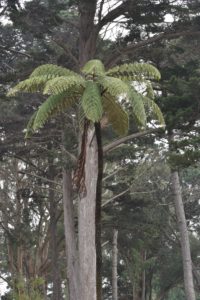 This was my third trip to the city in the past ten years. Both times we went into the city to the piers (Pier 39 is my favorite because of the hundred of seal lions on the floating docks and second, because of the great seafood restaurants there.) On our two previous trips we took the Trolley down to the docks, shopped and checked out Ghiradelli Square. And last time, we ate in Chinatown. This time I wanted to do something completely different — visit Golden Gate Park and The Presidio.
First mistake: Once we exited our bus, we had a 45+ minute walk to the Beach Chalet with its onsite brewery, beer garden and upper floor fine dining with stunning views of the beach on the Pacific Ocean. We had drinks and the calamari appetizer which were delicious and afterwards browsed the 1930s WPA murals by artist Lucien Labaudt assisted by Arnold Bray, Farrell Dwyer, and the plaster, James Wyatt.

After the Beach Chalet, we crossed the street to traverse the deep expanse of sand to put my feet in the Pacific. (Keith was photographer at this point as he had no interest in taking his shoes off and getting in the water.) The curved wall embankment between sand and sidewalk were awash in beautiful graffiti. It was stunning to turn back from the seashore and see this artwork for the first time.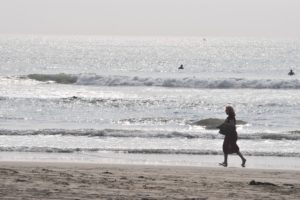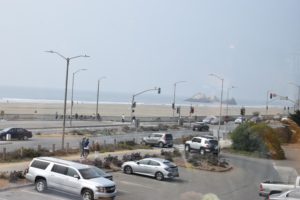 Once I reached the waves I took note of the washed-up jellyfish, the kelp bulbs (looked like lizards to me) and the cleanliness of the shoreline. There were amazing rocks just offshore, The Presidio in the distance and tons of surf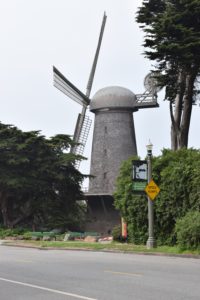 I was sad to walk back across the beach, put my shoes back on and meet our Uber, but I will take my memories of Golden Gate Park with me. Next time I will try to visit the windmills onsite (almost medieval in architecture). There is a flower conservatory, polo field and more in this 1017 acre park. Much to explore next time.
What do you like to do in San Francisco? I would love to add it to my bucket list!
Please follow and like us: