Our first glimpse of the Golden Gate Bridge was from an Uber we caught from Golden Gate Park to The Presidio. We got a taste of the architecture of this former military post and a view of  the onsite San Francisco National Cemetery before we were dropped off at The Commissary with its Spanish-influenced cuisine and cocktails.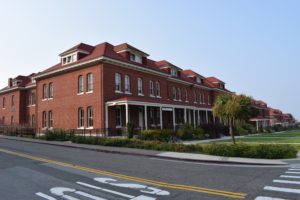 Offered by award-winning chef Traci Des Jardins, The Commissary offers seating in the kitchen where diners can interact with or just observe the restaurant's talented chefs in action. My husband, Keith ordered the Close but No Cigar, a bourbon-based cocktail which featured the first taste of a smoke-infused drink that I had been hearing about that week. I was surprised that I liked it. I ordered the Toki Doki, which featured Japanese whiskey and Jamaican bitters with a dried/candied lemon peel. Both drinks were top notch.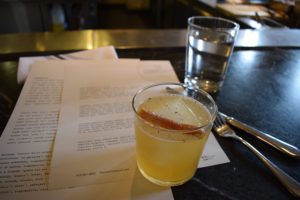 For my appetizer I ordered cheese fritters with black truffle honey. Keith ordered Patatas Bravas with buttermilk aioli. Both were delicious. My entrée was Chicken Roulade with frisee, marcona almonds, dates and sherry. The kitchen worked its magic here as I would have never ordered this save for seeing the rolled, boneless chicken as it was taken from the oven and sliced three feet in front of us. Keith ordered the Alaskan Halibut with grilled squid, salsa verde, tomato and summer beans. There was more to my entrée and Keith would have ordered the chicken had he known this though he thoroughly enjoyed his seafood.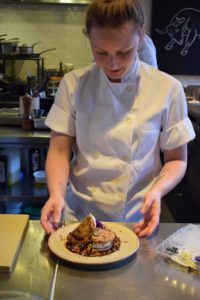 On to dessert (as if we needed it after what we had consumed already): we shared the Espresso Custard with hazelnut brittle, crème fraiche and cacao nibs. In front of us, one of the chefs prepared the Chocolate Chip Cookie and Vanilla Blueberry Ice Cream Sandwich topped with violets (pictured here). I would definitely order that next time!
I highly recommend The Commissary to anyone who wants a delicious and one-of-a-kind experience in San Francisco. And if you go on a Thursday, you may be lucky enough to hang out for Twilight Thursday on the lawn in front of the restaurant. With food trucks, fire pits, tented seating areas, large red rocking seats which the kids loved, food trucks and music, it is great enough. With the Golden Gate Bridge in the background, it is the experience of a lifetime.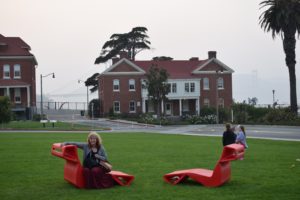 Please follow and like us: