In August 2018 I visited the San Francisco Bay Area for the third time. As this does not make me an expert in getting around the area, I feel qualified to share the lessons I learned. I'm a big proponent of public transportation whether it be a subway system, train or bus. I love to leave the driving to someone else, which is why I also make use of Uber. A rental car is also a great choice if parking is available and affordable.
San Francisco Bay Area by Car
If you're flying into San Francisco International Airport, getting to the Hertz rental car center https://www.hertz.com/rentacar/location/unitedstates/california/sanfrancisco/SFOT15 involves escalators and the BART subway system and is easy to find. My husband, Keith, and I use Hertz Rental Car and have always had a good experience with them. The first time we rented one of their cars the line was long and when it was our turn to choose our ride, the rental agent was accommodating enough to give us the white convertible Mustang that I jokingly suggested! Ask and ye shall receive, I guess.
This year, we went for a Volkswagen SUV as we arrived in late afternoon and they were waiting for a number of cars which were due shortly. While the SUV wasn't nearly as exciting as the convertible, I was glad we chose it as it came in handy later that week when  I had a fender bender and ended up on a scary drive on top of a mountain that made me glad we were in a sturdy vehicle.
Have you ever had a car accident in a rental car in California – or anywhere? This was a real lesson for me. I will not go into a lot of detail here, but the other car involved in the accident was a rental as well. When the three young women in the other vehicle (they were from France and just delightful despite the circumstances — Keith could not believe it later when I showed him the photos we took of each other after everything was settled, lol) did not know what to do any more than I did, I called 911 to have them send an officer out to document the incident. The 911 operator made it clear to me three times that the officer would not file a report. He was only coming out to make sure we traded the appropriate documents and information to follow up on repairs. We were in Redwood City, 20 minutes south of San Francisco. The police officer who came out was delightful and extremely helpful. The woman who rented the other car and I traded cellphone photos of our driver's licenses and our rental agreements' insurance portion documentation. My vehicle only had a scrape on a vinyl part of the side front bumper but their car, a Camaro, had a few dents. Everyone parted in good spirits and Hertz said they did not even consider what happened to our vehicle to be damage. Phew!
The road which made me happy we had a protective vehicle was the #2 Worst-Road-I've-Been-On-In-California (the first being the approach to Muir Woods north of San Francisco). Both roads were lacking in what I am used to on roads along breathtaking drop-offs — guardrails.
On this most recent trip, we were driving from our motel in Redwood City toward Pacific Coast Highway 1. Following my Wayz driving app, we missed the turn to Portola Road. The app directed us to take the next road — big mistake! I missed the name of the road at the time and the area was so remote that the road does not show on maps. Suffice it to say that this was a driveway in width! The one time we met a car coming the opposite direction, we had to hug the side of the mountain with the passenger side wheels in a ditch. Keith thought the experience was great and it was one of the most horrifying rides I've had in a long time.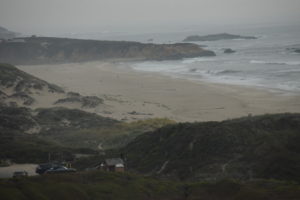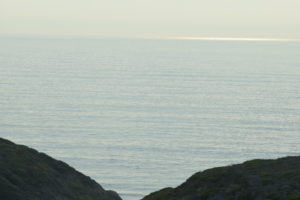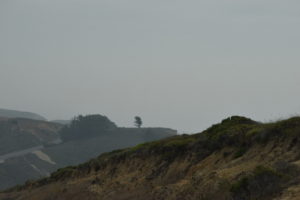 San Francisco Bay Area By BART
San Francisco Bay Area Rapid Transit (BART) http://www.bart.gov/ is an inexpensive and efficient way to get around the city. The closest stop from the south is the Millbrae station so we parked there and headed up to the subway entrance where there were ticket machin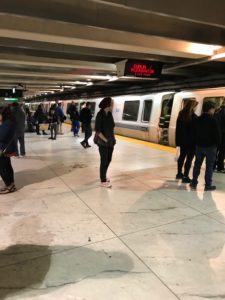 es and an attendant to help if needed. One word of advice – On a past trip I used the BART system and always found the stations clean and tidy. However, be sure to make a restroom stop before you arrive at this station. The restrooms were barely usable. I'm sure they are not always that way, but I would never go in one of these again.
You can buy one-way or roundtrip tickets. We found that once you are in the system, you do not have to "top off" your ticket for low-level remaining fare to get back to your starting point..
By MUNI
San Francisco Bay Area's Bus System (MUNI) is like most city's above ground transport, but I enjoyed being able to purchase our tickets on their mobile app https://www.sfmta.com/getting-around/muni/fares/munimobile®. This made it very efficient. As parking is so expensive and elusive in the city, the BART and MUNI are great ways to get around if you know what your doing and plan ahead. The Presidio even has a free bus that runs until 8:00 p.m. to the Embarcadero BART station. That would have wrapped our recent trip up nicely except I insisted on walking from the bus drop off to Pier 39 to see the sea lions after dark. This necessitated an Uber ride back to Embarcadero. Live and learn.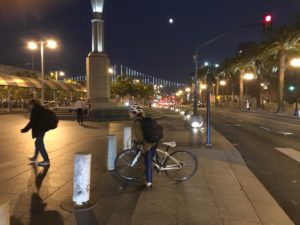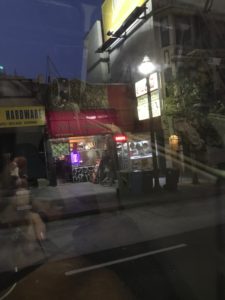 Do you have any suggestions on getting around the San Francisco Bay Area? Anyone have suggestions from your experience taking the CalTrain? If so, I'm sure my readers would benefit from your experience. Please share your ideas in the comment section. Thanks!
Please follow and like us: