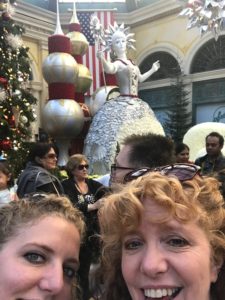 Yesterday, I spent a good part of the day on The Las Vegas Strip with my daughter, Lauren. My first visit in May 2018 gave me enough bearings to show her some of the highlights. Lucky for us, she has an M Life reward card that provides free parking at any MGM-related facility, so we headed to the MGM Grand Hotel and Casino's self-parking garage off of Tropicana Avenue which put us at a great starting point.
Our first destination was Hexx Bar + Kitchen for brunch. I was there in May and knew they served bottomless Mimosas and incredible carrot cake pancakes with cream cheese icing. After our 20-minute walk to make it for our 10:00 a.m. reservation we were ready to relax on their patio right on the Strip.
One of the best attractions at this location for me are the Bellagio Fountains. We were treated to Celine Dion and Andrea Bocelli songs as the fountain show ran at 11:00. I don't remember seeing the water shoot above the mid-tower of the hotel when I was there in May. Spectacular!
After brunch we headed to The Grand Canal Shoppes at The Venetian, watched the gondoliers – one of which
was singing a romantic song accompanied by hip swiveling (reminded me of the Elvis impersonator in a wheelchair who passed us at brunch). We checked out a few shops and meandered our way back outside.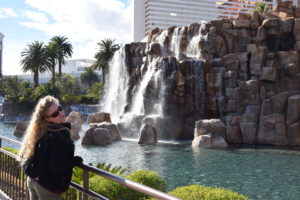 We took an overpass to stroll by The Mirage, Caesar's Palace and my favorite destination, The Bellagio Conservatory. My aim was to show her the gorgeous Japanese-inspired Spring Garden they featured in May. When we turned the corner from the casino, I was amazed to see their was a new installation.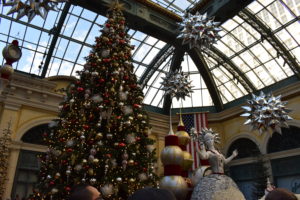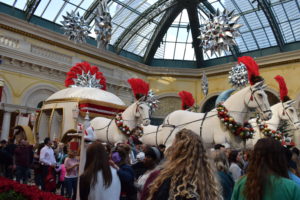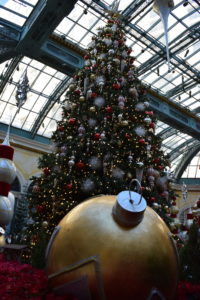 A winter wonderland complete with a snow Queen, frolicking polar bears, a four-horse drawn carriage and of course, a floor-to-ceiling Christmas tree. What a way to start the holiday season as it was December 1st.  YouTube video of garden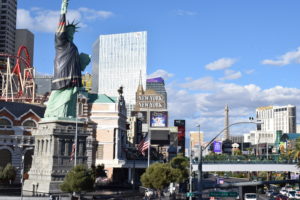 My next stopping point was supposed to be The Chandelier Bar at New York New York Casino and Hotel. Got that one wrong! The bar is in The Cosmopolitan so we missed it and were too lazy to walk back another 20 minutes as our feet were blistering at this point. We continued from New York New York to our final new hotel and casino for both of us – The Luxor.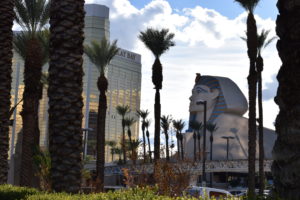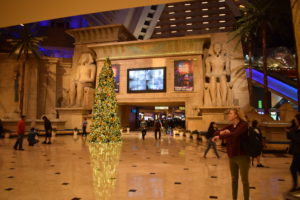 This was one of the stops I regretted missing on my previous trip. At the hotel's Centra bar in the middle of the casino, we had a mother-and-daughter heart-to-heart which did my heart good. Both of us enjoyed the time off our feet.
We wound our way – with several switchbacks through the connected casinos' indoor shopping malls and crossed over Las Vegas Boulevard to try out hand at the slot machines in the MGM. We both "won" and only lost two dollars.
The best thing about this excursion was one-on-one time with my daughter, Lauren. I loved having the opportunity to be with her on an adventure before heading back to Virginia. The extra and less important part of this trip was checking off more destinations on the Las Vegas Strip. Can't wait to visit Lauren and he family again at such a rarefied spot. Next time, I would love to go with her whole family and experience our granddaughter enjoying the sights and sounds of Vegas, baby!
Please follow and like us: