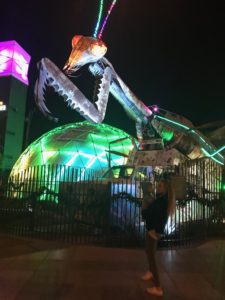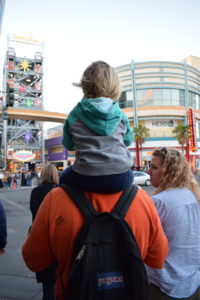 This week I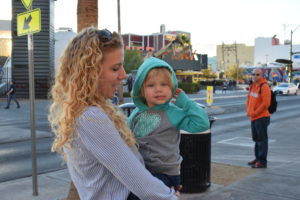 am spending time with my daughter, son-in-law and granddaughter who have been transferred to Nellis Air Force Base. I'm sad to see them go, but the base is on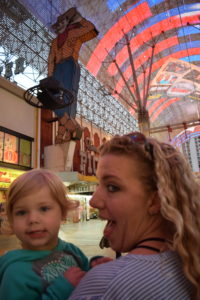 ly 18 miles north of the Vegas Strip. Lucky me!
Tonight we all headed to The Fremont Street Experience to see the shark aquarium at the Golden Nugget Casino, the Vegas Vic, the neon cowboy on the Pioneer Club, people flying under the Fremont Street light show video ceiling, The Neon Museum, Container Park and most important to my granddaughter, AJ, the metal sculpture of a praying mantis in front of the park.
I have been talking up the praying mantis to my granddaughter for at least a month. I saw it back in May and when I found the family was moving to Nellis, I couldn't wait to take her to see it. I told her it was a grasshopper for weeks until I looked up the photo and my husband, Keith, pointed out it was a praying mantis. Duh! AJ continues to call it a grasshopper and I decided to consider this the name of the praying mantis.
One of the first things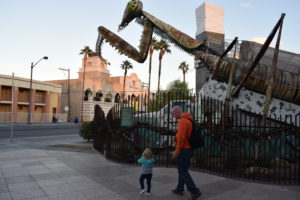 we saw on Fremont Street was the praying mantis in daylight. There were a few lights on its antennae and it looked cool. After visiting several shops in Container Park and heading down Fremont to see the shark aquarium inside the Golden Nugget casino's pool, watch people "flying" and wondering what AJ thought of some of the wacky things we saw, we stopped for dinner La Comida Mexican Restaurant on South 6th Street.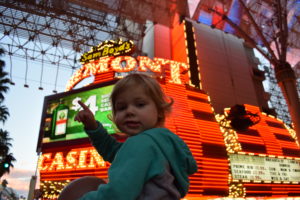 La Camida, with a neon dancing monkey on its marquee, proved to be an authentic Mexican restaurant with great margaritas  I had Pollo al Guajillo (chicken tacos) and everyone else had the same, carnitas tacos or shrimp tacos. The corn tortillas were soft and served with family-style refillable plates of rice and beans. We all enjoyed our food and the service was friendly and excellent.
The sun went down while we ate and that was perfect. When we headed back to the car, the praying mantis was completely lit up and the antennae were shooting fire. The look on AJ's face was priceless! All the way home she kept repeating, "fire antennas".
After the praying mantis, we drove to The Neon Museum only to find out it's a good idea to make a reservation and after 4:00 p.m. the adult tour price jumps from $20 to $28. Plus, you have to commit to a one-hour tour. This was way too much to risk taking a two-year-old who was completely exhausted by that point. You can visit between 9:00 a.m. and 4:00 p.m. for a half-hour $20 tour. Yes, I know the signs are much cooler after dark, but I think I would prefer the daytime tour.
Tomorrow I am taking my daughter, Lauren, to the strip to give her a mini tour of things I loved on my first visit in May. Can't wait!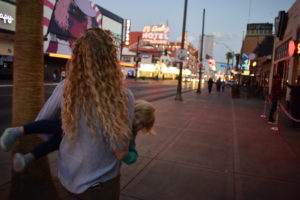 Please follow and like us: